The Post gives us 60 pages plus covers for our nickel this time around, but they're doing fine with profits as 27-1/4 of the 60 pages, plus 3/4 covers contain advertising, so there's plenty of revenue coming in the Curtis door during this period. The 32-3/4 pages of text and illustration is split almost down the middle between fiction and non-fiction. I didn't read the stories, but I did take a closer look at the non-fiction articles and have even put together a brief bio on this issue's all-star writer.
Speaking of bio's, this issue's cover was illustrated by Penrhyn Stanlaws, who led a very interesting and artistic life.
In brief, the fiction contained within this issue is as follows:
"Suspicion" by Harris Dickson and illustrated by Arthur William Brown looks to be a mystery involving the upper crux of society.
"A Little Taste of Business: Matt Has it and Asks for More" by Peter B. Kyne and illustrated by Harvey Dunn is about Cappy Ricks (illustration shown), the "president and principal stockholder of the Ricks Logging and Lumber Company and Blue Star Navigation Company." Kyne wrote several Cappy Ricks stories and Cappy would later make his way to the big screen in 1921's Cappy Ricks starring Thomas Meighan, 1935's Cappy Ricks Returns and 1937's Affairs of Cappy Ricks which starred Walter Brennan. Kyne, 1880-1957, worked as a reporter in San Francisco where he would become familiar with the merchant marines.
"The Phoenix" by Richard Washburn Child and illustrated by Irma Deremeaux
"H.R." by Edwin Lefevre and illustrated by Clarence F. Underwood. This one is a serial picking up at Chapter 2. Lefevre is best known for his "Reminiscences of a Stock Broker" series of fictionalized stories about Jesse Livermore which appeared over eleven issues of the Post in 1922-1923. Underwood also illustrated several covers for the Post during this period and was especially known for his portraits of women "with suggestions of action. His elegant women were often engaged in sports, or so the combination of costume and prop suggested" (Cohn 46).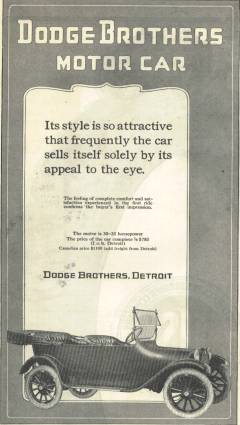 This issue carries automobile advertisements from Dodge Brothers of Detroit, who none too succinctly proclaim "Its style is so attractive that frequently the car sells itself solely by its appeal to the eye." There is no specific model advertised, just "Dodge Brothers Motor Car" but the price is listed at $785, or $1100 Canadian. Dodge only shelled out for half a page, but the Milburn Wagon Company sprung for a full-page, half of which contains a photo of the Millburn Light Electric Coupe at $1485, Roadster at $1285. "With a garage full of all kinds of cars, you would drive your Milburn a hundred miles for every ten you'd drive other types of car. We have observed it carefully–it is an invariable fact." Oldsmobile also goes for the full-page, but they use all of their space on text. The headline declares "Oldsmobile sets the pace with an Eight – Alive with Power — Light in Weight — Exquisite in Beauty" and italicized but also buried in the text "A Most Surprising Thing is the Price, $1295." That's it for autos, though there are plenty of related ads especially from tire companies such as Fisk.
Tuxedo Tobacco takes an interesting step with photos and quotes from six celebrity pitchmen, two of whom I was familiar with. There's Brig. General C.C. Sniffen and Prominent Chicago Physician and Surgeon Clement W.K. Briggs, M.D. who says "Physicians give their approval to Tuxedo because it's harmless and wholesome." Also featured is Congressman R.F. Broussard of Louisiana and Herman Nickerson, who I should know but I don't, as he is Secretary of the Boston Braves, defending World Champions of Baseball. Those I do know are the writer Irvin S. Cobb who really didn't sit at his desk too long to come up with "I can't think of any reason why I shouldn't say I like Tuxedo–because I do like it, very much." And the most famous of these half-dozen smokers, director D.W. Griffith, who says "A pipeful of Tuxedo is a wonderfully pleasant form of tobacco enjoyment, mild and soothing."
I found this pretty interesting because it either points out that the ad agencies of 1915, or at least the one that designed this ad, were completely ignorant regarding who the public would respond to pitching products, or the public was very different than it would soon be in who it would respond too. The military man is the only one I can see the buying public responding too any time in the near or more distant future. The most interesting choices to me are Nickerson, the Braves' Secretary, and D.W. Griffith in that it's pretty obvious the public would spend its reverence on a baseball player rather than secretary and a movie star rather than director. Outside of a TV commercial today with George Steinbrenner or that one with director M. Night Shyamalan, it's a pretty universal choice to go with the player or the star. As for the Congressman, that doesn't seem appropriate outside of a PSA and I guess the physician is there to calm your fears over that cough you recently developed somewhat coincidentally after beginning to smoke Tuxedo brand products. In a pre-Marlboro Man world the tobacco company tries to entice the public by showing that smart people smoke, not tough guys.
And just a quick note to finish up looking at the advertising, the most eye-catching ad in the issue is a quarter-page ad from 2 in 1 Shoe Polishes, only because it is so racist. The caption on this one is "Dat sho'ly am SOME Polish."
I only mention the shoe polish ad as a segue into the half-page article "White Hopes." At first glance I had no idea what this would be about, and then reading the first paragraph and I thought it had something to do with harvesting and basically just didn't get it. Finally, I read the entire article and it's reporting Jack Johnson losing the Heavyweight Championship of the World to Jess Willard. This is written pretty strangely. It is extremely flowery prose, and would have taken me almost a full column to figure out what it was even about if I hadn't known who James Jeffries was, as his was the only name mentioned to this point. Johnson is not mentioned until the last paragraph and then only by his last name. I'd like to think the article was intended to be sarcastic as it lists the long line of "White Hopes" who stepped up attempting to take the title from Johnson and failed, but in the end it just seemed to be celebrating the fact that Willard finally knocked off the old champ.
The anonymous writer writes: "The real White Hope had at last been found! All was excitement and enthusiasm reigned supreme. At the evening cocktail hour loud cheers were heard resounding and swinging doors swung again to the reverberating echoes." Though only overtly racist in the repetitive use of the "White Hope" term, though then again I can recall this same term being applied to Gerry Cooney as recently as 1981 or '82 when he challenged Larry Holmes, there is no doubt that the conservative Post was quite happy to see Johnson, thought of as a trouble-maker, finally succumb to one of the hopes. Every pretender along the way is referred to by full name in the article, yet there is reluctance to write out the full name of the former champion … Jack Johnson. By the way, Johnson's story is very interesting and if you missed the PBS special on him released within the past year or so, it is available on DVD. A very entertaining couple of hours.
"Made in Japan" by Samuel G. Blythe is a long article about the expanded Japanese trade. I read this entire article and found it pretty boring on the whole. Basically the Japanese took advantage of the market created for hats when the Chinese cut their queues. Blythe stresses over and over again how the Japanese "must have more trade. They must expand." He also drives home the point that the Japanese will gladly accept a small mark-up in order to sell a great quantity of items. He mentions that the telephone and telegraph in Japan are government controlled, as is the tobacco market, and paints a picture of a hard-handed government putting the squeeze on Japanese citizens.
A couple of other snoozers for me that I started out intending to read but found my mind wandering were "The Mind Reader" by Edward Mott Woolley, which is about bosses and employer-employee relationships and "Rubbing the Lamp: How the Specialty-Shop Aladdin Makes His Profit" by Corinne Lowe, about specialty clothing shops for women (with money). There is also a half a column article titled "Printing Telegraphs" which was interesting but probably just used as filler (maybe an advertiser dropped out late or they just had a little space leftover).
The highlight of the issue was "For King and Country: I Nibble Them" by mystery and short fiction writer Mary Roberts Rinehart, who was also a war correspondent in World War I.
Rinehart writes from the battlefield of Ypres where she mingled with the French soldiers in the trenches. The article contains a lot of dialogue between herself and the soldiers such as the Captain's response to her wondering why the soldiers were so cheerful one morning: "They have been in a very bad place all night…They are glad to be here, they say." "You mean that they have been in a dangerous place?" Rinehart asks, to which the soldiers' response was laughter and a few proffering their caps forward to display bullet holes. "You see," the Captain said, "it was not a comfortable night. But they are here, and they are content."
Rinehart mentions how she was told that the horses were American like her, and by the end of the article she seems to comfort in this fact. When a battery is fired she is concerned that it is being done to show off for her, but the soldiers assure her that they were firing to disable a German battery which had been located. Rinehart writes:
"There is a curious feeling that comes with the firing of a large battery at an unseen enemy. One moment the air is still; there is a peaceful plain round. The sun shines, and heavy cart horses, drawing a wagon filled with stones for repairing a road, are moving forward steadily. their heads down, their feet sinking deep in the mud. The next moment all hell breaks loose. The great guns stand with smoking jaws. The message of death has gone forth. Over beyond the field and that narrow line of trees, what has happened? A great noise, the furious recoiling of the guns, an upcurling of smoke–that is the firing of a battery."
I thought that paragraph was well-written and gave a good feeling of what Rinehart saw over there. The article is filled with descriptive entries such as this. Another portion that I particularly like is when Rinehart explored the trenches, of which she wrote:
"It was odd to stand there in the growing dusk, looking across to where was the invading army, only a little over three thousand feet away. It was rather horrible to see that beautiful landscape, the untraveled road ending in the line of poplars, so very close, where were the French outposts, and the shining water just beyond, and talk so calmly of the death that was waiting for the first Germans who crossed the canal."
The Captain told her, "They represent the latest fashion in trenches!" as he showed her around. Rinehart took in all of the details, the mud and water, the barbed-wire rabbit trap (shown at right), and then: "Suddenly the rabbit trap and the trench became unspeakably loathsome to me. What a mockery this business of killing men!" She writes of her German gardener, Wilhelm, and reasons how easily he could have been here, could have been the enemy, had he delayed coming to America to be her gardener. She reflects on his smile and other things that she likes about him, and she knows he was a loyal German citizen when he was here, knows that he was a Sergeant in the German Army for five years, and then realizes how many more Germans are like her Wilhelm, except that they are still in Germany. Rinehart injects some patriotism into her argument writing of the many Wilhelms: "Men who have followed the false gods of their country with the ardent blue eyes of supreme faith." Somewhat disgusted, she soon then says, "I asked to be taken home."
The Mary Roberts Rinehart article surely had to be the most exciting part of this issue then as it was now. With America a couple of years from entering the conflict, Rinehart presented them with a detailed and realistic, though perhaps at times romantic, picture of the war from one of its most central battlefields.
Taken as a whole The Saturday Evening Post of 1915, while being sold to the masses attends more to the white-collar world, and reports on this world from a Republican perspective. Articles geared towards bankers, manufacturers and wealthy wives looking to shop are interrupted by entertainment such as the Johnson-Willard article and the report from Ypres. Remember though, this is 1915, not 1951 — those tossing their nickel across the counter were for the most part educated people of the business class. The mass public was for the most part not yet an educated population. Lorimer's Post tailored from his perspective on the right was not meant for the "huddled masses". Lorimer, in fact, would resign from the Post after becoming disenchanted with his audience upon their reelection of FDR. The Post would then tailor itself more towards mainstream America. Rockwell's America.
Source:
Cohn, Jan. Covers of the Saturday Evening Post. New York: Penguin Books, 1995.