Well, I guess could really say 21 Presidential inaugurations since there were two held behind the scenes when the January 20th date fell on a Sunday, but those were then done publicly the following day, January 21 (1957, 1985). Prior to FDR's second inauguration (1937), the first to be held on a January 20, thanks to the 20th Amendment to the U.S. Constitution, the majority of inaugurations had been held on the date of March 4 since the time of George Washington's second swearing in in 1793.
Perhaps we'll revisit the pre-Roosevelt Presidents on that date, but what I propose to do today is take a quick look at collecting trends for the American Presidents from Franklin Delano Roosevelt through Barack Obama, in other words, those who were sworn in on this date, or thereabouts, in history. More specifically, collecting old magazines featuring these Presidents and how hot a buy they are at this time in history.
Following the name of each President will be their inauguration date, a rating 1-5 with 5 being the hottest sellers, and an image of a past magazine cover appearance.
Franklin Delano Roosevelt – (March 4, 1933, January 20 1937, 1941, 1945), 4/5
FDR has a lot going for him in terms of collectibility. You don't even need to like President Roosevelt in order to be drawn in to collecting him because of the sheer length of his term of office which multiplies the number of world events a collector might be going after. Notably and quite obviously, The Great Depression and World War II. Roosevelt's most notable cover appearances are probably his record holding three times as Time Man of the Year in 1932, 1934, and 1941. Average price of period cover: $20.
Harry S. Truman – (April 12, 1945, January 20, 1949), 4/5
That first inauguration date is so far off because Truman was Vice-President succeeding Roosevelt at his passing. Truman remains popularly collected as the man who authorized use of the atomic bomb on Hiroshima and Nagasaki to precipitate the end of World War II. Truman also gets points for personality, even today being quoted from both sides of the aisle. His popularity with collectors probably hinges as much on this down to earth personality as it does any historical happenings. A two-time Time Man of the Year himself in 1945 and 1948. Average price of period cover: $15-$20.
Dwight D. Eisenhower – (January 20, 1953, January 20 and 21, 1957), 3/5
A three might not be entirely fair for Ike, but my experience is that he's only a 4 when you include his previous cover appearances from World War II. As President I believe a 3 is quite fair. Ike's got the Cold War going for him, but people would rather have FDR and Stalin magazines than Eisenhower and Khrushchev. Two time Time Man of the Year appearances, but only once as President, 1959, with the other coming during World War II in 1944. Average price of period cover: $10-$15.
John F. Kennedy – (January 20, 1961), 3/5
Does that 3 surprise you? After all, for many JFK may have a more powerful emotional response than any other President on this list, the result of the aura of Camelot itself, but JFK collectors of mainstream magazine cover appearances aren't as many as you might think. No items are more overvalued by non-collectors than JFK assassination issues. Why's that? Every one saved them, they're still around in abundance, and there is weak demand from those who don't have them. It will be interesting to see if demand again rises as the mass population ages and these start finding the garbage in greater abundance as estates are cleared. For now, you'll find someone willing to pay more for his 1961 Time Man of the Year appearance than you will for any of the assassination issues. The grade of 3 is based completely on what demand does exist and not the always disappointing expected value for one of our more historically beloved Presidents. Average price of period cover: $10.
Lyndon B. Johnson – (November 22, 1963, January 20, 1965), 2/5
There are a lot cooler things to collect from the 1960's than Lyndon Baines Johnson. More people will directly collect Vietnam related covers than Johnson and the Great Society doesn't come close to matching the Great Depression for collectors. Johnson did manage to get into the Time Man of the Year group twice, 1964 and 1967, but those are more likely collected by a Man of the Year collector than a Johnson collector. In fact, the main reason to collect LBJ is simply because he was a President. Average price of period cover: $8-$10.
Richard Nixon – (January 20, 1969, 1973), 4/5
I'll reiterate, that rating is based on how well Nixon items sell, not pure value. A Nixon collection is a cheap collection, but Nixon always sells. Unlike Johnson, who is overshadowed by Vietnam, Nixon is associated with it, collections often more clearly involve the man and the event. And then there's Watergate. Time Man of the Year in 1971 and again as co-Man of the Year with Henry Kissinger the following year, perhaps the recent release of the critically popular Frost/Nixon (2008) gives him even more legs. Average price of period cover: $6-$10.
Gerald Ford – (August 9, 1974), 1/5
Yes, he was President, no, he was never elected President, and so a Ford collection is most likely sought by the Presidential completest or University of Michigan alumni who likes football. Average price of period cover: $4-$6, maybe $8 if you're patient. Betty Ford might be a better seller.
Jimmy Carter – (January 20, 1977), 2/5
Carter's collectibility has been enhanced by his continuing to make his presence known even today. Like Johnson, Carter is overshadowed by events covered during his period, the most popular collecting niche being items focused on the Middle East and especially the Iran-Hostage crisis. Still, Carter is recent enough to still have a great many ardent supporters. That said, with Ford as a dividing line, with Carter we come recent enough into history where the strength of his market is dictated mostly by political ideology. Put another way, there aren't a lot of Republicans collecting Carter. Average price of period cover: $6-$8.
Ronald Reagan – (January 20, 1981, January 20 and 21, 1985), 4/5
Yes Reagan sells, no, he doesn't carry tremendous value, not as President. The Ronald Reagan collectibles to have, no surprise, are the ones from his time in Hollywood earlier in the century. Discarding movie collectibles, Reagan scores higher than Carter because 1) He was a two-termer; 2) Possibly due to the timing of the hostage release he comes to office transcending the Middle East in the eyes of collectors; 3) Cold War; 4) Affable personality. I find the average prices I've put on each of these Presidential collectibles to create, by no mistake, a Democratic market: a collection anybody can afford to make.
But if I were to tab any of them for future growth in value it would be Reagan. Previous Presidential legacies have already peaked, his is still growing. Time Man of the Year in 1980 and co-Man of the Year in 1983 with the Soviet Union's Yuri Andropov. Average price of period cover: about $8.
George Bush – (January 20, 1989), 2/5
A Carter for Republicans. Transcended once again by collectors of the Middle East and especially the first Gulf War. 1990 Time Man of the Year (The Two George Bushes). Average price of period cover: $5-$6.
Bill Clinton – (January 20, 1993, 1997), 2/5
It will be some time before the value goes up, but I expect Clinton to rise to a 3 sometime soon as history grows more distant and people who voted for him grow more fond of him as time passes. A Hillary Clinton inauguration today probably would have already had a 3 by his name from me. A good question is, what will people collect? More Middle East covers no doubt, but do they collect the President or the latter term scandal? It could work for demand in Clinton either way as we've seen with Nixon. Time Man of the Year in 1992 and another co-Man of the Year in 1998 with Kenneth Starr. Average price of period cover: $4-$5.
George W. Bush – (January 20, 2001, 2005), 1/5
This guy isn't very popular. I think it's pretty easy to see that even if something happens to make him more collectible, he will always be overshadowed by 9/11 with collectors. From the perspective of the collecting world, that ain't his fault. Time Person of the Year in 2000 and 2004. Average price of period cover: $4-$5.
Barack Obama – (January 20, 2009), 5/5
Oh, did I say Reagan had the most potential with future collectors? Well, if I did it's only because I can't imagine this guy getting any hotter than he is right now.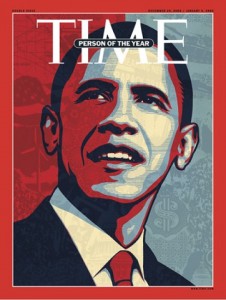 Well, that's not entirely true, the frenzy surrounding post-Election Day newspapers was unlike anything I'd ever seen. You could pay, what 50 cents for paper that morning, run a 1-day auction on eBay and turn it into up to $200 the next day. But then half that the following day. Quartered the next. Now you'd be lucky to get 2 or 3 times your initial investment.
But I tell you what. I'll be buying some extra papers tomorrow. Most obvious statement ever made: by virtue of becoming the first African-American President of the United States Barack Obama will have collecting power forever even if he doesn't do a thing.
Beyond that, right now he has a popularity with collectors around the world unlike any other President I can recall. Add a dose of healthy personality and he's gold right now. Time Person of the Year, 2008. Average price of period cover: $5-$20, though technically he's yet to actually appear on a magazine cover as President.
There you have it. I hope you enjoy today's inauguration regardless of your political affiliation. Because no matter who comes to office you can be sure they'll always find themselves on a lot of magazine covers and someone will always be there to collect them.